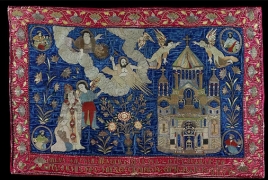 June 21, 2018 - 15:53 AMT
PanARMENIAN.Net - Armenian art is not something isolated. It is woven into a global network, and needs to be understood for what makes it specifically Armenian, declared Dr. Helen Evans, to an enthusiastic crowd of close to a one hundred at the Armenian Diocesan Krikor and Clara Zohrab Information Center in New York, Massis Post reports.
"It is also part of the world's art of global significance," Evans said.
The ARMENIA exhibition will open on September 22, the 27th anniversary of Armenia's independence, and run through January 13, 2019, at the world famous Metropolitan Museum of Art in New York City. It has been organized by Dr. Evans, the distinguished Mary and Michael Jaharis Curator for Byzantine Art at the Metropolitan Museum of Art, and acclaimed scholar of Armenian art.
The Very Rev. Fr. Daniel Findikyan, newly elected Primate of the Armenian Diocese (eastern), and longtime Director of the Zohrab Information Center, introduced Dr. Evans, and pointed out that the scholar had previously co-curated the Morgan Library and Museum's 1994 exhibition, Treasures in Heaven: Armenian Illuminated Manuscripts. As the Nikit and Eleanora Ordjanian Visiting Professor of Armenian Studies, he said, Dr. Evans has taught art courses at Columbia University, and has published numerous articles on Armenian subjects.
She has been especially instrumental in displaying major works of Armenian art at the Metropolitan, including treasures on permanent view in the medieval galleries. She was also responsible for bringing to the Metropolitan the huge 1000 pound twelfth century khachkar (cross stone) from the Lori province for which she traveled to Armenia with Metropolitan Museum Conservator Jack Soultanian, on one of her many trips there. It remains on renewed loan at the Metropolitan.
Using color slides to accompany her remarks, she said that this must-see exhibition at the Metropolitan is "an opportunity to show Armenian art as an identifier of a significant people, and an important element of the world's art."
Included in this exhibition, the first of this monumental scale at the Metropolitan Museum of Art, are 140 opulent gilded reliquaries, richly illuminated manuscripts, rare textiles, liturgical furnishings made of precious materials, khachkars (cross stones), church models, and printed books which show Armenia's distinctive imagery in their homeland, and from other major Armenian locations from the Kingdom of Cilicia on the Mediterranean to New Julfa in Safavid Persia.
"The way we are presenting art is showing how Armenians with their conversion to Christianity, created a visual identity that is incredibly compelling and goes through a variety of styles in the millennium we are covering. At the same time, it always has the element that ties Armenians together."
The time period includes opening with the conversion of Armenia to Christianity – the beginning of the 4th century, and will conclude with the end of the Middle Ages, when Armenian books become readily available in the Middle East. "We wanted a narrative," she said.
The show will focus on four artists, showing several works by each of them "so people will think of them as we think of Michelangelo in Italy." They include T'oros Roslin, Sargis Pidzak, Toros Taronatsi, and Hakob of Julfa working in the Armenian homeland, the Kingdom of Cilicia, and New Julfa.