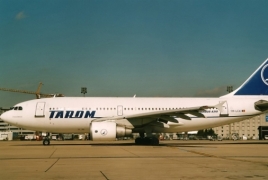 June 22, 2018 - 15:20 AMT
PanARMENIAN.Net - Romania's state-owned airline TAROM has sold its two Airbus A310 aircraft to Armenia Airways, a newly-established company, for €5.5 million, Romanian media reported on Thursday, June 21.
Armenia Airways is a proposed Armenian carrier that plans to operate scheduled services from its base at Zvartnots International Airport in Yerevan, according to CAPA - Centre for Aviation. The start-up plans to operate services to several destinations in Europe, including Moscow, Saint Peteresburg, Amsterdam and Paris. The carrier was due to commence air service operations in June 2016, with services to Amsterdam, Krasnodar, Moscow Vnukovo and Rostov. A revised launch date has not been advised.
The price paid by the Armenian company includes the two aircrafts, an engine and other spare parts.
According to a report by Economica.net, the aircraft were used to fly over the Atlantic to the United States and Canada.
As of the end of 2017, the planes alone were reportedly valued at $1.67 million and $1.63 million, and the engine and the other components account for the difference in the final price.
TAROM bought three Airbus A310 in 1992, but one of them crashed shortly after its first takeoff. The two remaining ones serviced long-haul flights, which were discontinued in the early 2000s because of losses. The Airbus A310 were TAROM's biggest aircraft, with a capacity of 209 seats each.
As reported earlier, Romania's state-owned airline will launch flights from Bucharest to Yerevan in 2018. The carrier has already filed preliminary information on its planned new services, according to which it is going to use an Airbus A318 aircraft to fly to the Armenian capital.