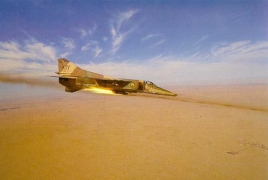 June 25, 2018 - 16:09 AMT
PanARMENIAN.Net - Rebel fighters in the southern province of Daraa claimed they have shot down a Syrian MIG-23 fighter as the Syrian forces attempts to recapture a key town and split the rebel-held areas, Al-Masdar News reports.
The MIG-23 variable-geometry fighter aircraft was allegedly downed with a 23mm anti-aircraft autocannon while carrying airstrikes on the jihadi stronghold of Busra al-Harir town located in the northeastern countryside of the province.
A Syrian military source confirmed that a plane was hit but denied it was downed.
"A MIG-23 of the Syrian Army Air Force was hit while on a mission in northeast Darra. The body of the warplane was damaged but the pilot managed to return and land safely in the airbase", the source commented.
The incident comes as the Syrian army intensifies attacks in bid to liberate the key jihadi bastion of Busra al-Harir and eventually entirely besiege militants in Lajat region.