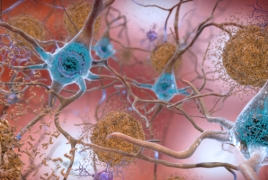 July 6, 2018 - 12:13 AMT
PanARMENIAN.Net - Biogen is declaring success with a once-failed treatment for Alzheimer's disease, pointing to positive secondary results from a mid-stage study in hopes of saving a drug many in the field had written off entirely, Stat News reports.
The treatment, BAN2401, failed its primary goal of beating out placebo over the course of 12 months. But looking at 18 months worth of data from the Phase 2 trial, Biogen and partner Eisai said late Thursday, July 5 that one dose of the treatment — the highest of five tested — had a significant effect on both cognition and the accumulation of toxic plaques in the brain.
"This is really the first large study in which [plaque] reduction correlated with a reduction in cognitive decline," said Dr. Lynn Kramer, chief medical officer of Eisai. "And that's a very important correlation."
But just how significant that effect was remains unknown. Biogen and Eisai are disclosing only top-line results from the study while planning to present detailed data at a future medical meeting.
Now the company, partnered with Japanese drug maker Eisai, plans to meet with regulators in the U.S. and Europe about a path forward, aiming to design a large-scale study that might get BAN2401 approved for sale.
The case for BAN2401 is based on what's called the amyloid hypothesis, which posits that the memory-destroying effects of Alzheimer's are the result of toxic plaques that build up in the brain. BAN2401 is meant to root out the free-flowing cellular clusters that eventually fold up into amyloid plaques, thereby preventing cranial accumulation and, in theory, delaying progression of disease.
Biogen and Eisai designed the trial with the goal of fast-tracking BAN2401 into late-stage development, enrolling roughly 900 patients with early-stage Alzheimer's and betting that the drug would show a benefit after just a year of treatment. In December, the companies conceded failure on that score, but held out for better results on the study's secondary goal, which was BAN2401's effect after 18 months.
Patients in the high-dose group began seeing a significant cognitive benefit compared with placebo after only six months of the trial, Kramer said, and continued seeing a benefit throughout the study. And on the safety side, Kramer said, fewer than 10 percent of patients reported brain swelling, a common side effect for drugs like BAN2401.
But unanswered questions remain. It's unclear how many patients in the study were in the high-dose group. And the metric Biogen and Eisai used to measure cognition is a homemade composite score, not the standard battery of tests used in most Alzheimer's studies.
Kramer said Eisai has spoken with regulators about its in-house metric, which includes what he said were the key measures used in three of the most common cognitive tests.