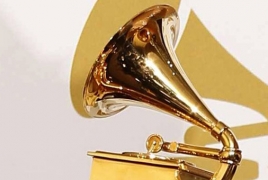 July 9, 2018 - 11:49 AMT
PanARMENIAN.Net - Armenian producer and sound engineer of Syrian descent, Jacob Momjian seeks to be the first artist from Kuwait to win a Grammy award.
Momjian made his return to Kuwait in the hopes of shaking up the music scene and raising the bar of the recording industry, Arab Times says.
He was born in Kuwait, where he also went to school. He moved out of Kuwait in 2013 to pursue a Bachelor's Degree in Sound Engineering in the UK and received a Masters in Audio Post Production. Momjian worked in the UK for a bit and then returned to Kuwait in December.
"I'm fresh in the scene here, I have my own studio now and I'm excited about my prospects. I have met some great people in the industry already, I'm starting to get my name out and working on myself as an artist, producer and sound engineer," the artist says.
"I want to be a well-known and respected artist and producer. My big dream is the Grammys. I want to be the first person from Kuwait to get the award. I believe in myself and that's my target. If I don't set up a goal for myself, I won't get there."
Momjian says he wants to help create a good scene in Kuwait and raise the bar for recording and producing in terms of quality with proper production techniques.