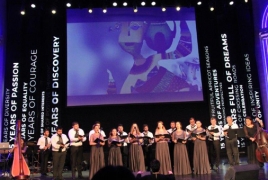 July 9, 2018 - 18:12 AMT
PanARMENIAN.Net - One of the most spectacular events of the Armenian capital, the 15th Golden Arpicot International Film Festival kicked off on July 8.
The General Partner of the event is VivaCell-MTS, which has been supporting the festival for 13 years now. Armenian film lovers and cinema professionals will have the privilege to enjoy masterpieces of international cinematography till July 14.
The festival officially opened at Aram Khachaturian concert hall, with the guests and the participants of competition and non-competition programs walking the red carpet before the start of the ceremony.
Robert Guediguian's "The House by the Sea" opened the festival at the Moscow Cinema, while Terry Gilliam's "The Man Who Killed Don Quixote" will be screened at the end of it.
Among the guests of honor are Darren Aronofski, and Golden Lion winner Gianfranco Rosi, whose films will be screened within "Retrospect" program.
The feature competition jury will be chaired by two-time Oscar winner Asghar Farhadi (Iran). The members include chairwoman of the European Cinema Market Beki Probst (Germany), Russian director Boris Khlebnikov (Russia), French Armenian director Valerie Massadian (France), and renowned cinematographer Larry Smith (United Kingdom).
The documentary competition jury will be chaired by prominent contemporary documentarian Zhao Liang (China). Members of the jury are director and scriptwriter Aleksei Vakhrushev (Russia), director and producer, professor of Lithuanian Academy of Music and Theater Audrius Stonys (Lithuania), director and producer Ben van Lieshout (the Netherlands), as well as director, winner of a number of film festivals, including the Golden Apricot, Tamara Stepanyan (France).
This year the festival will have 15 varying posters, each representing the history of the festival, its achievements, and the challenges it has faced.
Founding director of the festival Harutyun Khachatryan, Minister of Culture of Armenia Lilit Makunts, and VivaCell-MTS General Manager Ralph Yirikian greeted the public attending the opening ceremony.
In the interview with representatives of the mass media, VivaCell-MTS General Manager Ralph Yirikian said: "For thirteen consecutive years, VivaCell-MTS has supported Golden Apricot International Film Festival as a remarkable event in the world of modern cinematography that in itself is a manifestation of the creative talent and aspiration of the Armenians in reaching new heights in the field of art. We can now say with confidence that Golden Apricot has become an outstanding platform of intercultural collaboration between Armenia and the world. Golden Apricot fosters the development of national cinematography as an invaluable part of our culture. Through this exceptional event, we, Armenians, with the unique identity of our cinema, get the opportunity to be on par with other cultural nations. For us, national cinema is a means of enhancing our cultural presence in the "big world", and concurrently, a means of responding to global cultural challenges, while maintaining our identity."