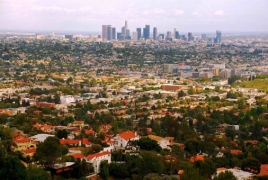 July 11, 2018 - 11:03 AMT
PanARMENIAN.Net - To celebrate the 2800th anniversary of Yerevan, the capital of Armenia, the City of Glendale and the Library, Arts & Culture Department in collaboration with the Yerevan Municipality Tourism Office will host a special 10-day exhibition at Downtown Central Library's ReflectSpace and PassageWay galleries, MassisPost reports.
Titled YEREVAN2800, the exhibition will run through July 23, with the opening reception set for Friday, July 13.
Dating back to the 8th century BC, Yerevan is one of the world's oldest and continuously inhabited cities. Yerevan's undeniable mark in history and its dynamic vitality will be showcased with 50 historic images as well as contemporary art, film and photography illustrating its place in the world as a thriving and vibrant city of the 21st century.
Photographs highlighting Armenia's recent historic Velvet Revolution taken in the streets of Yerevan will also be on view.
Photographs by notable photographers such as Vruyr, J. Dadyants, and H. Tarverdyants depict Yerevan from the 19th century to the present day. The historic and Soviet-era photographs are preserved in the collection of the Yerevan History Museum and reprinted for this special exhibition.
The main events dedicated to the 2800-th anniversary of the foundation of the Armenian capital will this year take place on September 29 and 30.