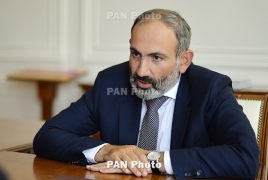 July 26, 2018 - 12:57 AMT
PanARMENIAN.Net - Armenian Prime Minister Nikol Pashinyan has said in an interview with Echo of Moscow that he would be glad if the son of Azerbaijani President Ilham Aliyev also served in the army.
Pashinyan's own son was recruited in the Armenian Armed Forces and will serve in Nagorno Karabakh.
According to him, the fact that his son has joined the army is a gesture of peace.
"This is a peaceable gesture, because I think, we all understand that when I send my son to Karabakh, I do not want a war to begin there," Pashinyan said in the interview.
"And God forbid my son and the sons of my compatriots, and the sons of ordinary Azerbaijani citizens are killed."
Pashinyan added that he would be glad if President Aliyev sent his son to serve on the contact line with Karabakh, as according to him, everyone would be confident that the Azerbaijani leader would not want his son to die either.