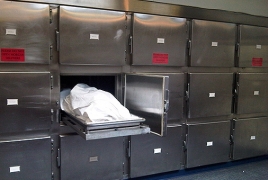 July 30, 2018 - 14:27 AMT
PanARMENIAN.Net - A 33-year-old Armenian prisoner, Gov Hovakimyan, was brutally murdered in a detention facility in Russia, but no criminal case was launched and the prison authorities tried to hide the fact of death from the relatives of the murdered, Gor's sister, Ani Simonyan has revealed, according to Novaya Gazeta.
Gor Hovakimyan was serving a prison sentence in the No. 6 corrective labor colony in the village of Melekhovo in the Vladimir Oblast.
"The administration of the colony hid the fact of Gor's death from the relatives so that the corpse could be recognized unclaimed and buried in order to conceal the true causes of my brother's death," Ani said in a message.
She noted that Hovakimyan's family live in Moscow and could not afford to visit him in the colony frequently.
"We hadn't heard from him for a long time, usually my brother called from the colony once a month, but there was no call this time. We were very worried. My mom was in a panic. In the evening of July 11 we called the colony, and they told us that he was alive and well. But my mother was very concerned, and in the morning she and her brother went to the colony and asked to see my brother. And then they were told that he died on July 6, which means six days had passed. The colony did not inform the family about [his death]."
Seven days after death, a body can be declared unclaimed and simply buried.
"We shot a video in the city morgue: there are traces of taser burns under his arms, his fingers and toes are broken, the genitals are damaged, there is a huge hematoma on the hip, a huge bruise on the waist, the buttocks are also covered in traces of taser burns... Only his face was untouched. In the certificate of death, double pneumonia was cited as the cause of death. My brother was healthy, he never complained about anything in life," Ani said.