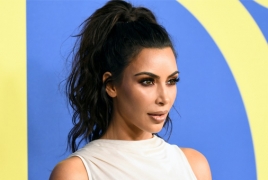 August 9, 2018 - 17:05 AMT
PanARMENIAN.Net - Reality TV star Kim Kardashian, who has Armenian roots, is using her worldwide influence to help thousands of children struggling with depression and anxiety, Metro reports.
The businesswoman launched her first Facebook fundraiser on behalf of the Child Mind Institute, a non-profit dedicated to changing the lives of kids with mental health issues or learning difficulties.
Kim wrote: 'As a mother of three, I think nothing is more important than my children's health. This includes their physical and mental health.'
The star cited there were over 17 million children in the US struggling with depression, anxiety, dyslexia or ADHD, which can hinder their ability to learn and succeed in life.
She said: 'With proper diagnosis and treatment, these children can thrive. As students return to the classroom this fall, I want to do what I can to make sure they have all they need to succeed in school and in life, now and in the future.'
Despite never having launched a Facebook fundraiser before, Kim said it was clear 'children's mental health and the work of the Child Mind Institute means a lot to me'.
This isn't the first time Kim has used her celebrity status to draw awareness to an issue; earlier this year she successfully campaigned for the release of Alice Marie Johnson, a 63-year-old grandmother who was serving a life sentence for drug offences. Alice had no prior criminal record before she was convicted yet still received a life sentence and spent more than two decades behind bars before being granted clemency.