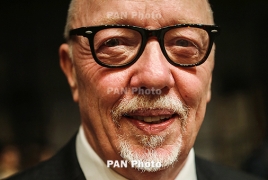 August 22, 2018 - 17:54 AMT
PanARMENIAN.Net - The Armenian National Committee of America-Eastern Region (ANCA-ER) will honor "The Promise" Director Terry George with the Freedom Award at its 12th annual gala October 13th at the prestigious Grand Hyatt Hotel in New York City, the Armenian Weekly reports.
George was recognized internationally for his groundbreaking film, "Hotel Rwanda", in 2004, and along with Executive Producer Eric Esrailian helped fulfill the vision of the late Kirk Kerkorian, educating the public about the perseverance of the Armenian nation through "The Promise." The film screened in the Vatican, the United States Capitol, various venues worldwide, and most recently, at the 2018 Smithsonian Folklife Festival.
George took on the Armenian Genocide-era epic with prior knowledge of the history of the Armenian people. He had traveled to Yerevan and Turkey to do research in the past.
"I know slightly more than most people because of research I had done for 'Hotel Rwanda' and when the opportunity came along I jumped at the chance to do it. Knowing how much the genocide has been suppressed since 1915, I couldn't give it up," George said.
He understood that the Armenian people had yearned for genocide recognition for more than 100 years and acknowledged how important having a benefactor like Kerkorian was to Armenians and society as a whole.
"Hollywood doesn't make films like this anymore. I admire the passion of the Armenian community and having the possibility to create this was important," George said.
He noted that most of the actors in "The Promise" were not familiar with the genocide but when they come to a new project they do extensive research regardless. George and others created volumes of material for the actors to read that detailed the horrors of the genocide and prepare them for filming.
George was aware of the ongoing denial and animosity the Turkish government had for the genocide, and he was not at all surprised by Kerkorian's request to keep filming quiet for as long as possible. That, along with intimidation of actors after the film was released, was a major challenge during production. "We flew under the radar and kept publicity to a minimum. We had just two Turkish actors in the whole film, but we wanted more. Even Turkish people sympathetic to the Armenian cause were afraid to be involved in the film," he said.
The ANCA ER Gala will take place on October 13, 2018 at the Grand Hyatt Hotel in NYC.