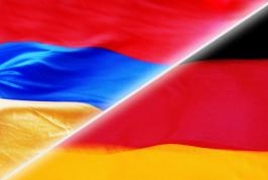 August 23, 2018 - 11:48 AMT
PanARMENIAN.Net - Germany's trade relations with Armenia, Georgia and Azerbaijan have been dynamically developing in 2018.
According to the German Committee on Eastern European Economic Relations, trade with Armenia grew the most - by 41% to total €171 million.
"Political changes that occurred in Yerevan in the spring of 2018 seem to be contributing to the dynamic development of the economy," the Committee said, according to Deutsche Welle.
In general, the volume of trade with the three South Caucasus republics, which the German Chancellor Angela Merkel intends to visit from August 23 to August 25, increased by 17.1% to €1.2 billion.
After a drop in 2017, revival of trade with Azerbaijan was observed this year. In the first half of 2018, Germany imported 10.8% more from Azerbaijan, while German exports to Azerbaijan grew by 44%. At the same time, the volume of trade with Georgia decreased by 2.5% year-on-year.