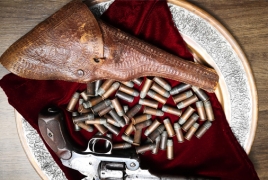 August 29, 2018 - 17:17 AMT
PanARMENIAN.Net - Syrian Armenian repatriate George Barseghian donated a unique family relic - a gun used during the Battle of Aintab - to the Armenian Genocide Museum-Institute on Wednesday, August 29.
Barseghian, who is a doctor, settled in Armenia six years ago and decided to donate to the AGMI the relic, which passed down to him from generation to generation.
"This is the ultimate and permanent place for it - a sanctuary dedicated to the memory of one and a half million victims - where it is as close as possible to the souls of the martyrs," Barseghian said.
The gun belonged to his great grandfather who participated in the Battle of Aintab. Prior to fleeing Syria, Barseghian left the gun at the Armenian Embassy, and it was thanks to Ambassador Arshak Poladian's efforts that the relic ultimately reached Armenia.
"This is an extremely important donation, which contains the spirit of the Armenian people, their will to survive and the confidence in victory," Acting Director of the AGMI Narine Margaryan said.
On April 24, Armenians worldwide commemorated the 103rd anniversary of the Genocide which began in the Ottoman Empire in 1915 and continued until 1923. Some three dozen countries, hundreds of local government bodies and international organizations have so far recognized the killings of 1.5 million Armenians in the Ottoman Empire as Genocide. Turkey denies to this day.