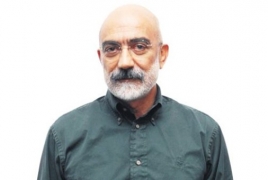 September 6, 2018 - 10:56 AMT
PanARMENIAN.Net - Sentenced to life imprisonment in Turkey, Turkish journalist and novelist Ahmet Altan continues work on his ambitious series, the Ottoman Quartet, from Silivri Prison outside Istanbul. The fourth book of the series tackles the Armenian Genocide, a subject so taboo in Turkey that anyone who mentions it risks jail for "insulting Turkishness," Publishers Weekly says.
Last February, Altan and five co-defendants were sentenced to life imprisonment for their alleged involvement in a 2016 coup attempt. Although Turkey's supreme court had ruled that "no one could be arrested based on such evidence," prosecutors insisted that the defendants had sent "subliminal messages" urging the overthrow of the government via television appearance and newspaper columns, and a panel of three judges agreed. An international outcry greeted this blatant violation of human rights and freedom of the press, including protests from PEN and Turkish Nobel laureate Orhan Pamuk.
Publisher Sandro Ferri, cofounder of Edizioni E/O in Italy and the English-language Europa Editions (based in New York and London) signed a deal with the jailed author to publish in Italian and English (translated from their original Turkish) Altan's series of historical novels known as the Ottoman Quartet. (Ferri will also sell translation rights in other languages.) The first volume, Like a Sword Wound, will be released by Europa in October; Love in the Days of Rebellion will follow in fall 2019. The third novel, Dying is Easier than Loving, is not yet scheduled, and Altan is working on the untitled final volume in Silivri Prison outside Istanbul.
The writer refuses to be intimidated by would-be sultans. His website unabashedly states that the final volume of the Ottoman Quartet is set in 1915 and "tells the tales of the Battle of Gallipoli and the Armenian Genocide." Altan is already well-known for his public statements about the genocide, a subject so taboo in Turkey that anyone who mentions it risks jail for "insulting Turkishness."
"I think the best narration of the dark and bloody face of history is found in literature," the author says. "Literature doesn't only give us the historical truth, it also enables us to form emotional linkage to what happened in history, it enables us to carry inside the marks of the events of the past."