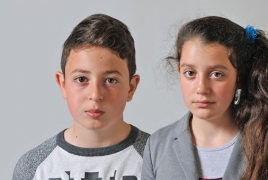 September 8, 2018 - 10:41 AMT
PanARMENIAN.Net - A last ditch legal attempt to keep children Lili and Howick in the Netherlands, rather than deport them to Armenia, has failed, DutchNews.nl reports.
Judges ruled at an emergency court session late on Friday, September 7 night that there is no reason to stop the deportation, which could take place on Saturday.
The children, aged 12 and 13, came to the Netherlands as babies and have never been to Armenia. Nor do they speak the language. Their mother was sent back a year ago but the children were taken into hiding at the time to avoid deportation.
The court ruled that there are no reasons why the children should not be deported, despite the psychiatric problems of their mother.
Their lawyer had argued that the children are likely to end up in an orphanage because their mother cannot take care of them.
However, the court said that agreements have been made by the justice ministry to ensure the children have a roof over their heads, get schooling and financial support.
Junior justice minister Mark Harbers, who has discretionary powers to keep the children in the Netherlands, had made it clear earlier on Friday that he had not changed his mind. And on the basis of Friday night's court ruling 'the departure for Armenia can continue', a spokesman told broadcaster NOS.
Children's ombudsman Margrite Kalverboer said the decision to deport the children is 'a low point' in children's rights in the Netherlands. 'Howick and Lili have no future in Armenia. Their future is here,' she wrote on Twitter. Prime minister Mark Rutte said at his weekly press conference on Friday afternoon that he understood the emotions surrounding the case. However 'you have to be tough in the case of people with no right to stay,' the prime minister said.
Lili and Howick do not qualify for the government's amnesty for well-rooted child refugees because their mother did not cooperate with efforts to deport the family – a key condition which must be met.
Celebrities, princess Laurentien and even shockblog GeenStijl have expressed their support for the children. The chairman of the Dutch police union NPB said on talk show Pauw on Friday night the decision is 'scandalous'.
'We should be so ashamed that we are deporting two children,' Jan Struijs said. He made an appeal to everyone involved in the deportation process to speak out because 'this can, and should not, happen in the Netherlands.'