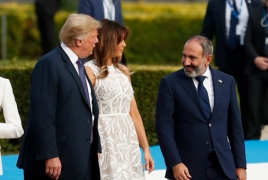 September 21, 2018 - 12:25 AMT
PanARMENIAN.Net - The peaceful, popular movement led by now Prime Minister Nikol Pashinyan ushered in a new era in Armenia, U.S. President Donald Trump said in a message he sent to Pashinyan on the 27th anniversary of Armenia's independence.
On Friday, September 21, Armenians throughout the world are celebrating the 27th anniversary of Armenia's independence.
"Armenia has much to celebrate this year. A peaceful, popular movement ushered in a new era in Armenia, and we look forward to working with you to help you execute the will of your people to combat corruption and to establish representative, accountable governance, rule of law buttressed by an independent judiciary, and political and economic competition," Trump said in his message.
"We thank you for your steadfast partnership on many fronts, including contributing to NATO operations and showing great generosity in welcoming Syrian refugees."
According to Trump, the coming months bring opportunities to resolve the Nagorno Karabakh conflict, which would create even more possibilities for U.S. – Armenian cooperation.
As a member of the OSCE Minsk Group, the United States looks forward to working with you to find a lasting and peaceful resolution of this conflict, his message said.
"This year also marks the centennial of the First Armenian Republic and the 100th anniversary of U.S. –Armenia friendship. I look forward to further strengthening the partnership that began between our countries one hundred years ago," Trump said.
"On this special centennial anniversary, I wish the very best to you and to the people of Armenia." the U.S. President's congratulatory message says."
With a unanimous national vote 27 years ago, the third Republic of Armenia was born on September 21, 1991, to give the Armenian people the right to build their future, be the masters of their land and regain statehood.