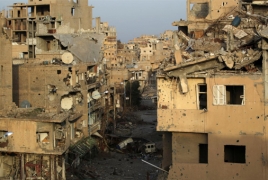 September 21, 2018 - 13:48 AMT
PanARMENIAN.Net - The US-backed Syrian Democratic Forces (SDF) have reportedly captured the strategic town of Baghouz Fouqani in southeastern countryside of Deir ez-Zor this evening, Al-Masdar News says.
According to local activists, the Syrian Democratic Forces, in coordination with the French and U.S. armies, managed to score a major breakthrough in southeast Deir ez-Zor on Thursday, September 20 after spending the last 24 hours involved in a fierce battle with the Islamic State (IS).
The Syrian Democratic Forces were able to crack the Islamic State's lines after U.S. attack helicopters repeatedly bombarded the Islamic State terrorists, forcing them to ultimately fall back.
However, the SDF would not have much time to secure the town after its capture, as the Islamic State terrorists launched a large-scale counter-attack in a bid to retake Baghouz Fouqani.
The Islamic State media alleges that their forces have reentered Baghouz Fouqani after killing more than 20 fighters from the Syrian Democratic Forces.
The Islamic State often exaggerates the death toll of enemy forces, which is something they have done since their units began losing a lot of ground in Syria and Iraq.
Intense clashes are now ongoing inside of Baghouz Fouqani, as the Islamic State attempts to reclaim the town from the Syrian Democratic Forces.