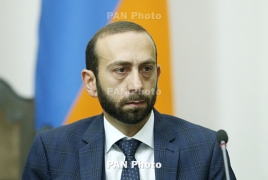 September 23, 2018 - 13:37 AMT
PanARMENIAN.Net - Armenia's First Deputy Prime Minister Ararat Mirzoyan said on Sunday, September 23 that municipal elections in Yerevan are proceeding normally.
"Nothing disrupting the election process has been revealed," Mirzoyan was quoted as saying.
Municipal elections are currently underway in Yerevan where residents are set to cast ballots in favor of new members of the Council of Elders.
12 parties and blocs are running in first elections after the velvet revolution which saw the resignation of former Prime Minister Serzh Sargsyan and the appointment as the country's new PM of Nikol Pashinyan, a former lawmaker who led the popular movement.
Former Mayor Taron Margaryan submitted his resignation on July 9, without providing reasons for such a move.
In November 2011, Margaryan was elected the Mayor of the city by the decision of Yerevan City Council. Following elections of the Council of the Elders in May 2013 and May 2017, he was re-elected in the post.