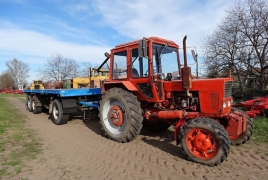 September 24, 2018 - 16:07 AMT
PanARMENIAN.Net - Belarus suggests setting up assembly plants of elevators and tractors in Armenia, Chairman of the House of Representatives of Belarus' National Assembly Vladimir Andreichenko said as he met an Armenian delegation headed by Vice President of the Armenian National Assembly Eduard Sharmazanov in Minsk on Monday, September 24, BelTA reports.
The Belarusian speaker made several proposals that could be of interest to Armenia.
"We suggest setting up plants to assemble, for example, elevators," Andreichenko said. According to him, Yerevan plans to run a serious program for their replacement. He also suggested that Belarusian specialists join the program.
Setting up plants to assemble farm equipment, such as tractors is another promising area. Cooperation in this field is important as Armenia is upgrading its agricultural industry and regularly buys modern Belarusian tractors.
Andreichenko said Belarus and Armenia celebrate the 25th anniversary of diplomatic relations this year, having achieved considerable success. Relations between the two states are based on friendship, mutual understanding and respect. "We appreciate that we have always had such an open dialogue which has always been aimed at promoting productive cooperation," the speaker said.
"We are determined to further develop our cooperation in all areas," Andreichenko said.
Belarusian-Armenian inter-parliamentary meetings are held regularly to help to establish contacts between ministries and business.