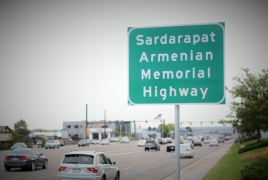 October 3, 2018 - 10:34 AMT
PanARMENIAN.Net - In celebration of Armenian survival and independence, several dozen elected officials, Armenian-American leaders and community activists attended the official unveiling of the Sardarapat Armenian Memorial Highway sign in Centennial, Colorado on September 29, 2018.
In April 2018, the Colorado House of Representatives and the State Senate unanimously passed House Joint Resolution 18-1019 that designates a portion of a major state highway – Arapahoe Road – in the Centennial State in honor of the heroic May 28, 1918 Sardarapat Battle that paved the way to the establishment of the independent Republic of Armenia. The legislative authorization of the highway sign was initiated and spearheaded by the Denver office of the Armenian National Committee of America (ANCA)-Western Region and ANCA-Colorado. Upon passage of HJR 18-1019, ANCA partner Armenians of Colorado (AOC), Colorado's oldest Armenian-American organization, sponsored the highway signs.
The sign unveiling ceremony included an opening prayer by Reverend Father Arsen Kassabian, Pastor of St. Garabed Church of Las Vegas, remarks by Congressman Mike Coffman, State Senator Dominick Moreno, State Representative Cole Wist, City of Centennial Councilmember Mike Sutherland, the chairwoman of the ANCA Western Region Nora Hovsepian, and the Board President of Armenians of Colorado (AOC) Sona Hedeshian, and was closed with a singing of the song Sardarapat. The master of ceremonies was Simon Maghakyan, long-time AOC activist and the ANCA Western Region's Denver- based Community Development Coordinator for 18 states.
In addition to program speakers, several other elected officials, including State Representative Paul Rosenthal and Arapahoe County Commissioner Nancy Sharpe, were in attendance. Visiting from Los Angeles, ANCA-Western Region's Los Angeles-based Board members Sako Berberian and Joseph Kaskanian, as well as former Executive Director Elen Asatryan, were also present. While unable to attend the ceremony, Andy Karsian of the Colorado Department of Transportation was acknowledged for his help in guiding the process of seeking authorization for the highway designation.
In his opening remarks, Maghakyan welcomed all attendees, previewed the program, and gave a brief background on the May 1918 Battle of Sardarapat (also spelled Sardarabad) that established the independent Republic of Armenia. "Turkey had destroyed Western Armenia but that was not enough. The Turkish army came for the tiny corner of Armenia that had survived. Surrounded on all sides, Armenians had no escape routes. There was only one choice – to die with dignity. They fought, many died, but they won," remarked Maghakyan. The 1922 United States of America Congressional Record account of the battle was quoted as praising Sardarapat as the reason for which "[Armenians] took their place among the nations of the world, the only nation in all this great struggle that won their independence by the sword on the field of battle, unaided and unassisted by any ally, a feat wholly unequalled by that of any other people of this century."