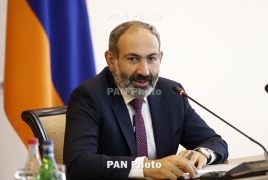 October 13, 2018 - 15:56 AMT
PanARMENIAN.Net - On October 12, an official dinner was given in honour of Canadian Prime Minister, Justin Trudeau who is in Armenia for an official visit. The dinner was organized from the name of Nikol Pashinyan in PM's residence. During the dinner Pashinyan gave the photo taken during the visit of Trudeau's father, Pierre Trudeau to Armenia, as a present. The photo was taken from the Archives of National Security Service.
Trudeau visited Armenia with his father, Pierre Trudeau during Soviet times back in 1984. His father had also served as Canadian Prime Minister however he was already retired during his visit to Armenia.
"I hope that Mr. Trudeau understands that during his visit to Soviet Armenia with his father they were not alone, they were not alone, they were not alone. And the National Security Service of our country found this photo from the archives of National Security. What is interesting is that as Mr. Trudeau back then was a child and presented no interest for the National Security committee, he was not caught in the cameras in any way. With great pleasure I want to give this photo to my dear friend", said Armenian PM, Nikol Pashinyan.
According to the protocol, the leaders of the both countries proposed toasts and talked about Armenian-Canadian relations and the prospects of their development, reports PM's press service.
"I want to propose a toast to the friendship of our countries, to Canadian statehood and nation, to the Prime Minister of Canada and Government of Canada. Live long dear brother", said Pashinyan.
Canadian Prime Minister, Justin Trudeau participated in the works of XVII La Francophonie Summit hosted in Yerevan, and his official visit to Armenian started on October 12.