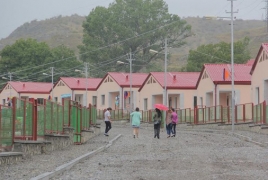 October 15, 2018 - 21:59 AMT
PanARMENIAN.Net - Sidney district will be built in Artsakh's Qaravajar city. The information was passed by the Member of the Board of Trustees of Artsakh Roots Investment (ARI) company, Vahan Gasrjyan during his meeting with the Artsakh Republic State Minister, Grigori Martirosyan. Gasrjyan expressed gratification about the formed cooperation with the government of Artsakh and stated that the number of participants of the project increases with each year.
He also stated that as the housing construction works will be implemented by the funds of Australian-Armenians there is a suggestion to name the district "Sidney", reports ArtsakhPress.
The idea was welcomed by the State Minister and the agreement to start the construction works in upcoming months was made. During the meeting, the sides also discussed the revision of interest rates on provided sums, issuance of government bonds by the state for the purpose of attracting new investors as well as other questions related to enhancing cooperation.
The State Minister appreciated the great importance of ARI in the support of Artsakh's resettlement policy highlighting the projects implemented in the fields of agriculture and housing in the state. According to Martirosyan, the planning works within the framework of the agreement on enlarging the project are in the final stage. The construction pre-calculation documents of 20 houses of Aghvano district in Qashatagh and 50 houses in Qaravajar city will soon be presented to the Board of Trustees.
Minister of Urban Planning Karen Shahramanyan made slides presentation on the proposed project presenting the implemented works by the ministry and stating that those will be concluded within the upcoming one month. Advisor to the President of Artsakh, Arayik Harutyunyan, representative of ARF Artsakh Central Committee, Davit Ishkahnyan and other officials were present at the meeting.