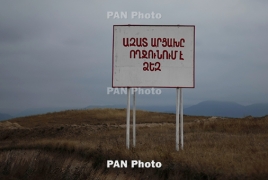 October 17, 2018 - 17:59 AMT
PanARMENIAN.Net - Acting RA Prime Minister, Nikol Pashnyan commented on the recent announcement of US Ambassador Richard Mills who will soon conclude his diplomatic mission in Armenia. Pashinyan stated that "the announcement of leaving ambassador can be considered a goodbye message".
Mills Earlier announced that in peaceful settlement of any conflict, including also in Nagorno-Karabakh, requires "a return of occupied territories". He also stated that "return of some territories of Artsakh to Azerbaijan is one of the Madrid Principles and Armenia should eventually decide which solution it is ready to go for".
Earlier the Co-Chairs of OSCE Minsk Group made an announcement where stating that settlement of the conflict in Karabakh will require compromises from all the sides.
On September 21, the Prime Minister of Armenia, Nikol Pashinyan announced in the Parliament that at the moment of taking his position as PM there were no talks about the status of Nagorno-Karabakh in negotiations. In opposite of this, the representative of Republican Party, in particular, Armen Ashotyan had stated that the question of the status of Nagorno-Karabakh is on the negotiation table.
Earlier the Co-Chairs of OSCE Minsk Group including US had announced that negotiations should include both of the cases of giving the territories beyond the borders of former Nagorno-Karabakh Autonomous Region (except for the Lachin corridor) under the control of Baku and their interim status during and before the referendum.