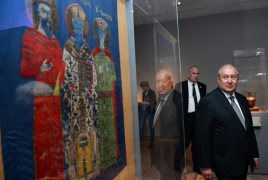 October 26, 2018 - 10:48 AMT
PanARMENIAN.Net - Armenia is a country with so much history it can overwhelm you. Given the "velvet revolution" that happened in spring, its future might be as eventful as its past, which makes it a timely moment for "Armenia!," the Metropolitan Museum of Art's eye-opening appraisal of the art, manuscripts, textiles and religious artifacts of a nation that is still adding surprising chapters to its dramatic history, art critic Jason Farago says in an article, published on the New York Times.
the country was the first to make Christianity its official religion, and this exhibition, packed with weighty stone crosses and richly illuminated gospels, is a testament to the centrality of the church to Armenian cultural identity. No museum has ever mounted such a large exhibition of Armenian art, and most of the 140 objects here come from museum collections and churches in Armenia and rarely travel.
"Armenia!" has been organized by Helen C. Evans, the Met's curator of Byzantine art, and focuses specifically on the art and history of the country's medieval period.
"It is not, despite the exclamation point in its title, an exhibition that favors razzle-dazzle. In fact, "Armenia!" is a rather bookish sort of blockbuster, concentrating heavily on illuminated manuscripts, and presented in low lighting to protect the gospels and romances on view," Farago says.
"There is some ecclesiastical flash, in the form of bejeweled crucifixes and gold-plated censers, but this is primarily an exhibition of book illustration, unlike any other medieval manuscript show you're likely to see."
The article adds, however, that there's more than manuscripts: "Beautifully woven vestments and altar frontals affirm that Armenian believers saw as much beauty in services as in the scriptoria. Reliquaries in the form of St. Gregory's right arm were popular, and one silver, gem-studded specimen here is said to contain the remains of his last known male descendant. Gold earrings with dangling pendants shaped like crescent moons and birds, dating to the 11th century, are a rare example of secular material here, and their filigreed panels reflect the influence of neighboring Iran.
"Armenians, as this great show attests, have long been at the mercy of outside forces, and the beauty of this show is tinged with conquest and subjection. But the young revolutionaries who marched and sang in Yerevan this spring — such a rare gleam of hope in this global age of authoritarianism — knew that the manuscript of Armenian history is still being written."
Armenians came out in the streets of Armenia this past spring, waving balloons of red, orange and blue. They were fed up with their ineffectual government, and on their smartphones they watched the progress of an opposition leader, the former journalist Nikol Pashinyan, as he walked in protest across central Armenia. When he arrived in Yerevan, the capital of this former Soviet republic, the crowds sang, shouted and swore to go on strike. Less than six weeks later, Mr. Pashinyan was named interim prime minister of Armenia, ushered into office on the shoulders of the extraordinary, nonviolent "velvet revolution."