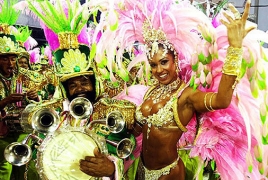 October 29, 2018 - 12:02 AMT
PanARMENIAN.Net - The world's most popular festival - the Brazilian Carnival - will present the flavor and spirit of Armenia for the first time. Armenian costumes, the history of Armenia from Noah's Ark to the present will be presented during the festival in 2019, the initiators of the show, representatives of the Brazilian samba school Sociedade Rosas de Ouro in Sao Paulo André Machado and Angelina Basílio revealed, according to radio Sputnik Armenia.
The Carnival of Brazil is an annual Brazilian festival held between the Friday afternoon before Ash Wednesday and Ash Wednesday at noon, which marks the beginning of Lent, the forty-day period before Easter. Carnival is the most famous holiday in Brazil and has become an event of huge proportions
Mashado and Basílio are currently in Armenia to know more about the culture and history of the country, which will help them properly represent Armenia at the carnival.
"It all started a few months ago, when representatives of the dance group saw a program about Armenia," Machado said.
"Then the idea to present the culture, the life of Armenia and the rich history of the country in a 65-minute show program at the carnival was born. This is interesting both in Armenia and in Brazil. Such a thing has happened before."