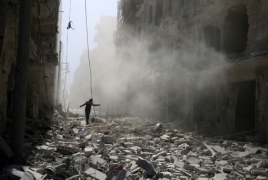 November 3, 2018 - 10:22 AMT
PanARMENIAN.Net - The Turkish military has expanded their attack in northern Syria on Friday, November 2, with a new strike on the Al-Hasakah province, Al-Masdar News reports.
According to a report from northern Syria, the Turkish military struck the positions of the U.S.-backed Syrian Democratic Forces (SDF) along the Hasakah-Turkey border.
The Turkish military reportedly struck the Syrian Democratic Forces' positions near the key town of Ras Al-'Ayn, which is located just east of the Al-Raqqa Governorate.
The attack by the Turkish military comes just hours after the Syrian Democratic Forces and U.S. Army began joint patrols in Tal Al-Abyad and Kobani (var. 'Ayn Al-'Arab).
The Turkish military often avoids attacking the Al-Hasakah Governorate because of the absence of rebel forces in the area; however, due to US-SDF joint patrols, they have shifted their attention towards northwestern Hasakah.