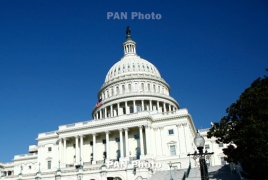 November 7, 2018 - 10:40 AMT
PanARMENIAN.Net - Democratic state Assemblyman Anthony Brindisi, an American politician with Armenian roots, declared victory over Republican incumbent Claudia Tenney on Tuesday, November 6 night in the fiercely contested race for the 22nd U.S. Congressional District seat, Pressconnects reports.
With all 565 precincts reporting, Brindisi had 117,779 votes to Tenney's 116,357. Absentee votes have yet to be counted.
Brindisi took a confident stance as he thanked supporters Tuesday night.
"We started this campaign with just one idea," he said. "One idea that we were going to put working people and the middle class ahead of the special interest. We knew it would be an uphill battle, we were out numbered, we had a lot of money spent against us, a lot of billionaires and millionaires. But we showed them."
Tenney refused to concede, telling supporters, "I'm certainly not going to give up the fight."
"I'm never a quitter," Tenney told a crowd chanting, "No concession!" "That's one thing you can count on."
Later in the night, her campaign issued a statement thanking voters and supporters and echoing Tenney's promise.
Millions of voters flocked to the polls Tuesday to render their first national verdict on the Donald Trump presidency, and the results gave Democrats a House majority while Republicans retained their control of the Senate.
Democrats Anna Eshoo and Jackie Speier, both of Armenian descent, are also projected to win the polls.