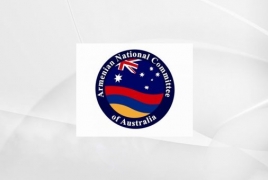 November 14, 2018 - 10:28 AMT
PanARMENIAN.Net - The Vice-Chair of the New South Wales Parliamentary Friends of Armenia, Walt Secord MLC rose in the Legislative Council of Australia's largest state and declared his continuing solidarity with the Armenian-Australian community, reported the Armenian National Committee of Australia (ANC-AU).
Secord, who is the son of a Mohawk-Ojibway First Nation man from Canada, has taken a keen interest in Armenian issues since the very beginning of his political career in Australia. His pioneering visits to Armenia, Western Armenia, Artsakh and Javakhk solidified his support for the recognition of the Armenian Genocide and the rights to self-determination for the Armenians in the Republic of Artsakh.
In his speech on Tuesday, November 13, Secord said: "As deputy chair of the parliamentary friends, my personal relationship with the Armenian community has also deepened. I have also visited Armenia on two occasions, Artsakh, Javakhk, the Gulbenkian in Portugal, Western Armenia including Kars, Van, Ani, Masis and Pokr Masis."
"To my deep pleasure every time I visit a community—whether it is in Singapore, Lisbon, Gyumri, Lake Sevan, Tbilisi, Stepanakert or Sydney's north—I discover a new aspect of the Armenian story. Since getting to know the Armenian community, I find myself seeking out all things Armenian. Most recently, it was the films of Atom Egoyan, Ararat and Noy Armenian brandies, Vasily Grossman's An Armenian Sketchbook, the music and ballet of Aram Khachaturian, and Sydney soprano Natalie Aroyan, whom I have seen perform in many Opera Australia productions. I now take a deep interest in the Armenian entry in Eurovision."
ANC-AU Executive Director, Haig Kayserian thanked Secord, who is the Deputy Leader of the Opposition in the NSW Legislative Council and the Shadow Minister for Health, the Arts, and the North Coast.
"Our community has long recognised that Mr. Secord embodies morality in politics," Kayserian said. "Mr. Secord visited Artsakh and faced the ire of the petro-dictatorship of Azerbaijan for supporting the rights to self-determination of the Armenians of the Republic of Artsakh. He has always argued for the recognition of the Armenian Genocide and maintains his exemplary moral compass on issues that impact other survivor communities around the world."
Kayserian added: "We thank Mr. Secord for his speech and look forward to continuing our community's relationship with him."