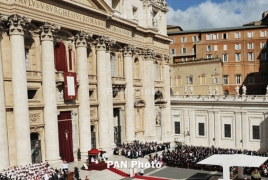 November 16, 2018 - 16:50 AMT
PanARMENIAN.Net - Vatican's secretary for relations with states expressed opposition to anti-Iran sanctions and called for all sides to be committed to their obligations, IRNA reports.
Vatican expressed its support for the Iran nuclear deal, known as the Joint Comprehensive Plan of Action (JCPOA) from the beginning, Archbishop Paul Richard Gallagher said in a meeting with Iran's Deputy Foreign Minister for Political Affairs Abbass Araqchi on Thursday.
Archbishop Gallagher lauded the nuclear deal's role in promotion of peace and stability in the region.
Vatican is officially opposed to such sanctions and in coordination with other European countries will provide a mechanism to reduce the effect of Iran sanctions, he said.
Vatican's secretary for relations with states expressed satisfaction with the current level of cooperation between Iran and Vatican and called for promotion of relations between the two sides.
US president announced early May that Washington would pull out of Iran nuclear deal and reinstate sanctions, which had been lifted under the accord.
The first round of the sanctions snapped back into place in August, with the second round, targeting the energy and oil sectors that took effect on November 5.
This is while other signatories to the deal (i.e. Britain, France, Germany, China and Russia) have thus far criticized Washington's unilateral move and repeatedly renewed their commitment to the deal.