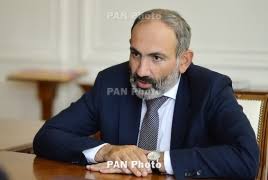 November 24, 2018 - 15:16 AMT
PanARMENIAN.Net - Armenia's acting Prime Minister Nikol Pashinyan has expressed full support for the authorities of Artsakh (Nagorno Karabakh) and sees no need for a revolution there.
His comments came after Jirair Sefilian, a members of Sasna Tsrer party, called for a revolution in Artsakh too.
Pashinyan himself swept to power after months of peaceful protests and a civil disobedience campaign as tens of thousands people took to the streets across the country demanding the resignation of former authorities.
"I fully support the current authorities of Artsakh and I am confident that regular elections will be held in the country," Pashinyan told reporters on Saturday, November 24.
"The people of Artsakh will establish a legitimate government."