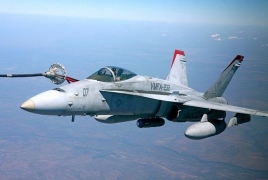 December 6, 2018 - 13:30 AMT
PanARMENIAN.Net - Five U.S. Marines went missing after a refuelling plane and a fighter jet collided midair and crashed into the sea off Japan's southwestern coast on Thursday, December 6, Japanese and American officials said, according to Al Jazeera.
Japan's defence ministry said on Thursday its maritime forces had so far found two of the seven Marines who were on board the aircraft - an F/A-18 Hornet fighter jet and a KC-130 Hercules - at the time of the incident.
One was in a stable condition at Marine Corps Air Station Iwakuni, while the second had been found about 10 hours after the collision and brought on board a Japanese military vessel, the ministry said. No other details about the second Marine were known, a ministry spokesman said.
The Marine Corps said in a statement the incident occurred around 2am local time (17:00 GMT Wednesday) about 320km off the Japanese coast.
Japanese state broadcaster NHK reported that six helicopters and three vessels from the self-defence forces are involved in the search and rescue operations.
Defence Minister Takeshi Iwaya said Japan is working with the U.S. to collect and share information about the crash.
"The incident is regrettable, but our focus at the moment is on search and rescue," Iwaya said at a news conference. "Japan will respond appropriately once the details of the incident are uncovered."
U.S. Ambassador William Hagerty thanked Japan's military for their search-and-rescue efforts and confirmed the incident occurred during a refuelling exercise.
"My heart goes out to the families and colleagues of Marines involved in this tragedy," Hagerty said at an event at Waseda University in Tokyo.