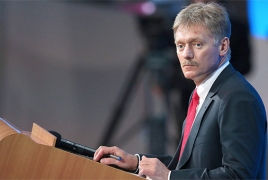 December 7, 2018 - 14:51 AMT
PanARMENIAN.Net - The leaders of the CSTO countries have yet decide who is the new Secretary General of the Organization, press secretary of the Russian President Dmitry Peskov said, according to TASS.
His comments came after Belarusian leader Alexander Lukashenko declared that the position will be filled in by a representative of Belarus. However, Armenia's presidency at the Organization concludes only in 2020.
The Kremlin representative added that the topic was weighed in on by the leaders of the CSTO member countries in St. Petersburg on Thursday, December 6 when the EAEU (Eurasian Economic Union) and CIS (Commonwealth of Independent States) summits were held.
According to Peskov, Lukashenko raised the issue at the EAEU summit, although it was not included in the agenda.
"This is a completely normal practice: any head of state can raise issues they consider necessary," Peskov said.
However, he added, not all the leaders of the CSTO countries were at the negotiating table at that time, so the dialogue on the topic continued later at the CIS summit.
The CSTO Collective Security Council relieved Armenia's Yuri Khachaturov of his duties as the organization's secretary general in late October.
On July 26, Armenia's Special Investigative Service accused Khachaturov of overthrowing the constitutional order in 2008 and requested his arrest. Khachaturov, who was the Commander of the Armenian Armed Forces' Yerevan Garrison back in 2008, pleaded not guilty. On July 28, the Yerevan City Court of General Jurisdiction released him on his own recognizance and a bail of about $10,000.