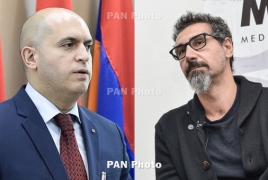 December 9, 2018 - 16:41 AMT
PanARMENIAN.Net - System Of Down frontman Serj Tankian and Armenian lawmaker Armen Ashotyan traded verbal blows on Facebook on Sunday, December 9 as the country is electing new members of parliament.
Tankian said he is very proud of Armenians "who will be going to the polls to vote for a new parliament after having freed themselves of a corrosive, unjust, corrupt regime earlier this year."
"It annoys me to read quotes from relics like Armen Ashotyan, from the RPA, complaining about not having enough time to ready themselves for the election after plundering the country for 20 years," Tankian said in a Facebook post after Ashotyan, a lawmaker who runs in the polls, said they did not have enough time to get ready.
In a post of his own, Ashotyan hit back at the musician claiming that Tankian "must be able to answer for your words by law."
Ashotyan also said he hopes the police will react to what he described as "a police report" by the prominent artist.
Tankian also said that he is happy to hear that former President Robert Kocharian is back in jail.
"The people of Armenia want and deserve justice for past injustices and should be holding all those responsible accountable," he said.
"Presidents who become billionaires while in office by using their office for personal gain are not patriotic, they are corrupt.
"Armenia's revolution and new path is a prime example of how a country can transition peacefully to a progressive egalitarian society.
"There is much work to be done, especially economically, but the important thing is that people are awake and empowered."