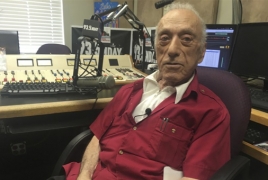 January 11, 2019 - 10:33 AMT
PanARMENIAN.Net - 93-year-old Armenian-American DJ Art Laboe has been on the air after 75 years, and he credits one group of listeners for this: family members who want to send messages to loved ones in prison.
Every Sunday on his syndicated show "The Art Laboe Connection Show," his baritone voice calls on family members to speak directly to inmates in California, Arizona or Nevada. Sometimes, Laboe reads parts of letters written by inmates, The Associated Press says in an article about the DJ.
It's a role Laboe says he feels honored to play.
Laboe was born Arthur Egnoian in Salt Lake City to an Armenian-American family.
It was when he worked as a DJ for KXLA in Los Angeles where he gained fame. Laboe was one of the first DJs to play R&B and rock 'n' roll in California and is credited by scholars for helping integrate dance halls among Latinos, blacks, Asian Americans and whites who were drawn to his multicultural musical line up.
Over the decades, Laboe maintained a fan base, especially among Mexican-Americans who followed him from station to station. He started getting calls from inmates' family members in the 1990s on his syndicated oldies show. Current and former gang members were some of his most loyal fans.
Alex Nogales, president and CEO of the Los Angeles-based National Hispanic Media Coalition, said generations of Latino fans still attend Laboe-sponsored concerts to hear the likes of Smokey Robinson, The Spinners or Sunny & The Sunliners.
"I see these really tough looking guys in the crowd. I mean, they look scary," Nogales said. "Then Art comes out and they just melt. They love him."