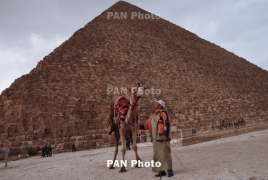 January 22, 2019 - 16:41 AMT
PanARMENIAN.Net - The British Archaeological Mission of the University of Birmingham working on Hawa Dome project in Egypt's Aswan has uncovered six tombs of different sizes dating back to the Old Kingdom, Asharq AL-awsat reports.
Mostafa Waziry, head of the Supreme Council of Antiquities, said: "The sizes of the discovered tombs differed remarkably. Two of them have an entrance carved into the rock, while the third has a complete entrance closed with stones, and a door leading to a burial chamber that is carefully enclosed by a brick wall."
"Even though the tombs were tightly sealed, they have been looted by thieves who broke down their back wall."
Martin Pumas, project director and director of the Museum of Ancient Cultures at Macquarie University in Sydney, Australia, said that a fragment of a funerary mask and a small metal amulet, depicting the god Khnum, were among the finds.
A large quantity of pottery that has preserved its content dating back to the late era in Egypt was also found.
Abdul Moneim Said, director general of the Aswan Antiquities, said that all the discovered artifacts were transferred to the Aswan Museum storehouse.
The Hawa Dome area is a rocky mountain located on the West Bank of the Nile, near Aswan. The mountain is over 130 meters high and includes many carved tombs of ancient Egyptian noblemen and priests.
The mountain's southern summit features the tomb of Sidi Ali Ben Al-Hawa. The white tomb has a dome seen from afar, and below it sits the ruins of a Coptic monastery (St. George).