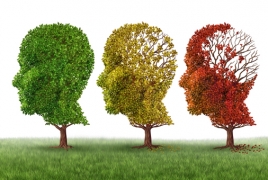 January 29, 2019 - 13:15 AMT
PanARMENIAN.Net - The brain's system for removing waste is driven primarily by the pulsations of adjoining arteries, University of Rochester neuroscientists and mechanical engineers report in a new study. They also show that changes in the pulsations caused by high blood pressure slow the removal of waste, reducing its efficiency.
This might explain the association between high blood pressure and Alzheimer's disease, the researchers say. Alzheimer's, the most common cause of dementia among older adults, is characterized by abnormal clumps and tangled bundles of fibers in the brain, Medical Xpress reports.
The study, reported in Nature Communications, builds upon groundbreaking discoveries about the brain's waste removal system by Maiken Nedergaard, co-director of the University's Center for Translational Neuromedicine. Nedergaard and her colleagues were the first to describe how cerebrospinal fluid is pumped into brain tissue and flushes away waste. Subsequent research by her team has shown that this glymphatic waste removal system is more active while we sleep and can be damaged by stroke and trauma.
This latest research shows "in much greater depth and much greater precision than before" how the glymphatic system functions in the perivascular spaces that surround arteries in the outer brain membrane, says Douglas Kelley, an assistant professor of mechanical engineering and an expert in fluid dynamics. His lab is collaborating with Nedergaard's team as part of a $3.2 million National Institute on Aging grant.