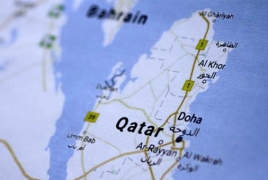 February 5, 2019 - 16:46 AMT
PanARMENIAN.Net - Embassy of Armenia will be created in Doha, the capital of Qatar, according to a draft bill included in the government's Wednesday, February 5's meeting agenda.
The creation of the Embassy will cost $192,584, with the Qatar side set to pay $110,000 in the coming three years, while Armenia will provide the remaining $82,584.
The Western Asian country will also provide area for the Embassy, residence for the ambassador residence and two cars.
The document cites Armenia's friendly relations with Qatar, living standards and investment opportunities in the latter, the recent trade turnover between the countries, as well as the number of tourists traveling to Armenia as reasons behind such a decision.
"The adoption of the decision will not only encourage business and labor activity between Armenia and Qatar, but will also serve as a new impetus for the development of cooperation," it says.