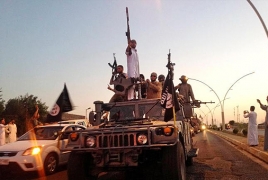 February 11, 2019 - 11:12 AMT
PanARMENIAN.Net - The Islamic State's recent string of losses in the eastern region of the Euphrates River Valley has begun taking a toll on their morale, prompting them to carry out the ruthless execution of captured enemy fighters, Al-Masdar News reports.
On Sunday, February 10 morning, the Islamic State's official media wing released footage of their militants executing their prisoners from the Syrian Democratic Forces (SDF).
Among those executed by the militant group were two members of an Arab tribe from the Al-Hasakah Governorate in northeastern Syria.
In the interview prior to the execution, the two tribesmen said that they were forcibly conscripted into the Syrian Democratic Forces, adding that they were placed at the front-lines in eastern Deir Ezzor before they were captured by the Islamic State.
The Islamic State often carries out these executions when they are on the verge of defeat; this has happened on a number of occasions in the past, with the battle of Al-Safa in late 2018 being the most recent reference.