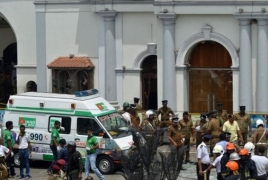 April 27, 2019 - 12:37 AMT
PanARMENIAN.Net - At least 15 people are dead and two or more suspected terrorists on the run after a shootout between police and alleged militants in eastern Sri Lanka late Friday, April 26, CNN reports.
There were three explosions during the shootout with suspects at a house in the town of Sainthamaruthu, Kalmunai, local police said. Authorities said they seized a large cache of explosives, 100,000 ball bearings and ISIS uniforms and flags from the house, which appeared to be a bomb making factory or storage facility.
The raids came after the coordinated attacks on Easter Sunday, which killed 253 people, including many worshipers attending Easter Mass services.
National Tawheed Jamath (NTJ), a local extremist group, has been blamed for the bombings, but has not claimed the attacks. ISIS claimed responsibility, but a link between the attackers and the terror group has not been proven.
Of the 15 people found dead in the house following the raid, six are suspected terrorists and nine are civilians, including six children, Maj. Gen. Aruna Jayasekera said.
Police are investigating the possible relationship of the civilians to the suspected terrorists.
One wounded suspect fled on a motorbike, and another suspected terrorist could be on the run as well, Jayasekera said.
One of the six suspected terrorists found dead has been identified as Mohamed Niyas, known to the authorities as a prominent member of the NTJ. Earlier in a statement from the army, Niyas was identified as the brother-in-law of the alleged ringleader of the Easter Sunday attacks, Zahran Hashim.
The eastern cities of Kalmunai, Chavalakade and Sammanthurai remain under extended curfew until further notice, according to police. The curfew on these cities was imposed after the shootout.