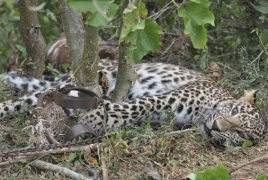 June 22, 2020 - 12:42 AMT
PanARMENIAN.Net - Poaching in parts of Asia and Africa have become increasingly common amid the coronavirus pandemic, as people left jobless turn to wildlife to make money and feed their families, The Associated Press says in a fresh article.
Authorities in India are concerned this spike in poaching not only could kill more endangered tigers and leopards but also species these carnivores depend upon to survive.
In many parts of the developing world, coronavirus lockdowns have sparked concern about increased illegal hunting that's fueled by food shortages and a decline in law enforcement in some wildlife protection areas. At the same time, border closures and travel restrictions slowed illegal trade in certain high-value species.
One of the biggest disruptions involves the endangered pangolin. Often caught in parts of Africa and Asia, the anteater-like animals are smuggled mostly to China and Southeast Asia, where their meat is considered a delicacy and scales are used in traditional medicine.
In April, the Wildlife Justice Commission reported traders were stockpiling pangolin scales in several Southeast Asia countries awaiting an end to the pandemic.
Rhino horn is being stockpiled in Mozambique, the report said, and ivory traders in Southeast Asia are struggling to sell the stockpiles amassed since China's 2017 ban on trade in ivory products. The pandemic compounded their plight because many Chinese customers were unable to travel to ivory markets in Cambodia, Laos and other countries.