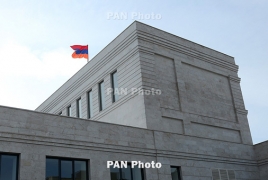 July 28, 2020 - 13:13 AMT
PanARMENIAN.Net - Azerbaijan's provocations on the border with Armenia are undermining efforts aimed at de-escalating the situation, Armenian Foreign Ministry spokeswoman Anna Naghdalyan said in a statement on Monday, July 27.
Armenian serviceman Ashot Mikayelyan was killed in an Azerbaijani sniper attack in the wee hours of Monday.
"Azerbaijan launched this provocation only days days after a statement issued by the OSCE Minsk Group co-chairs, which particularly emphasized the importance of adhering to the ceasefire and refraining from provocations," Naghdalyan said.
"At the same time, Azerbaijan announced large-scale military exercises with Turkey. All these demonstrate that the authorities of Azerbaijan, through their provocations, are undermining the efforts of the international mediators aimed at de-escalating the situation and resuming the peace process, thus bearing the responsibility for the consequences of further destabilization.
"Armenian Prime Minister Nikol Pashinyan clearly laid down the country's position on the situation. Azerbaijan should publicly renounce the use of force, abandon its maximalist approaches, and take credible steps to strengthen the ceasefire, which will enable the resumption and advancement of the peace process."
The situation on the border between the two countries escalated on July 12, with Azerbaijan launching several unsuccessful infiltration attempts throughout the next week. The Azerbaijani military also used artillery and combat drones to target civilian homes in several border settlements in Armenia. Five servicemen of the Armenian army were killed, while Azerbaijan reported 12 deaths.
In recent days, though, the situation has been relatively calm.