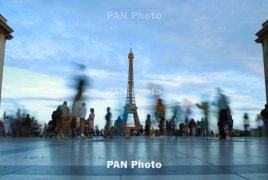 July 28, 2020 - 16:18 AMT
PanARMENIAN.Net - Europe is bracing for a second wave of coronavirus as continuing outbreaks raise the prospect of reimposed restrictions at a time when millions of people are travelling across the continent for their summer holidays, The Guardian reports.
The Belgian government has warned that country could be put into a second "complete lockdown" following a significant spike in infections, while the Spanish region of Catalonia may also have to reintroduce lockdown measures if outbreaks are not brought under control within 10 days.
There was a 71% increase in the seven-day average number of infections in Belgium between 17 July and 23 July in Belgium, up from 163 new cases a day to 279. At the height of the pandemic in April, Belgium had more than 1,000 cases a day.
In France, the health minister has called for greater vigilance after a sharp rise in Covid-19 cases in young people, and Germany's public health advisory body has said it is "deeply concerned" about the rise in cases over the past few weeks.
On Monday, the regional president of Catalonia – one of the areas of Spain hardest hit by the virus's resurgence – said the situation was similar to that before the national lockdown was introduced in March.