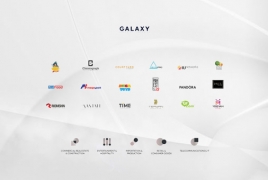 July 31, 2020 - 15:54 AMT
PanARMENIAN.Net - The 2019 tax portfolio of Galaxy Group of Companies amounted to more than $31 million, up by about $4 million compared to the same indicator of 2018.
One of the largest taxpayers and employers of Armenia, which unites about 3000 employees of 15 companies, Galaxy Group of Companies has published the 2020 economic and social impact annual report that breaks down the taxes and duties paid to the state by the group of companies, the credit portfolio, the wage-fund, the impact indicator on the country's GDP and other relevant data from 2019.
"Armenia is the center of our interests, evidenced by the 20-year activity in the country. We believe that we can have our contribution to the sustainable development of the country and improvement of the quality of life and we take steps towards the direction of fulfilling that mission," co-founder and CEO of Galaxy Group of Companies Aram Khachatryan said.
Galaxy Group of Companies has access to every third household in Armenia through its products and services. Typical characteristics of the community are: 18-55-year-old women and men with higher education, living in urban areas and representing the middle and high-income groups, 46.3% of which is politically active and the Internet is the primary source of information for 76%.
During 2019 alone the acquisitions by Galaxy group of companies from the local market was $53 million that had a considerable impact on the country's GDP. In 2019 Galaxy group of companies had 3.02% share in the credit portfolio provided by the RA banks that was about USD 128 million which ensured significant profitability for the banking system. The wage-fund was significantly improved in the group of companies. The average monthly wage of the group of companies, which was AMD 314,000 in 2018, increased to AMD 376,000 in 2019, and the income tax paid was AMD 3.709 billion.
The group of companies announced at the end of the first quarter that no jօbs were cut amid restrictions on economic activity imposed in the country due to the coronavirus outbreak. The detailed economic and social impact report is available on the company website.