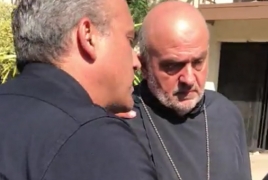 August 13, 2020 - 11:20 AMT
PanARMENIAN.Net - Father Armen Bagramyan, a retired priest of the Armenian Apostolic Church, is suing the Los Angeles Police Department claiming personal injuries arising from the use of excessive force by an LAPD officer during a protest last month in front of the building housing Azerbaijan's Consulate General, Asbarez reports.
The July 21 event was a peaceful protest for Armenian-Americans to express their anger and condemnation against Azerbaijan, whose armed forces launched several brazen attacks against military and civilian targets in Armenia's Tavush Province, beginning on July 12. As the demonstration proceeded in LA, water bottles from Azerbaijanis gathered on the other side of the street hit some of the Armenian protesters, and a scuffle took place.
The suit filed in Los Angeles County Superior Court Wednesday, August 12 alleges that while throughout the demonstration Father Bagramyan was assisting the police in ensuring the protest remain peaceful, despite attempts by a group of Azerbaijanis who were there to incite violence, he was assaulted by a Los Angeles Police Officer identified in the suit as Officer Ruiz.
The court filing alleges that Ruiz "forcefully hit Father Bagramyan in the stomach with the butt of his gun and then violently kicked Father Bagramyan in the chest while he was attempting to regain his balance."
"At no point before this attack had Officer Ruiz or any LAPD Officer commanded Father Bagramyan to correct any actions or warned him that he was not in compliance with any orders," explained the lawsuit.
Paramedics were called to the scene and rushed Bagramyan to the nearby UCLA Medical center where he received treatment for his injuries.