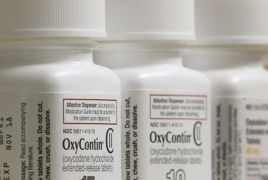 August 18, 2020 - 12:44 AMT
PanARMENIAN.Net - Purdue Pharma LP, the bankrupt maker of OxyContin painkillers, helped inflict more than $2.15 trillion in financial damage on the U.S. economy while pushing highly addictive opioids on Americans for almost two decades, four dozen states told a judge, according to Bloomberg.
Almost every U.S. state and territory will seek to recover a fraction of those alleged losses in Purdue's Chapter 11 case, which the company filed to block thousands of civil lawsuits over opioid-related deaths and injuries. New York's losses alone total more than $165 billion, according to a joint filing by the states made public Monday in U.S. Bankruptcy Court in White Plains, New York.
The filing comes as Purdue and its billionaire owners, the Sackler family, who aren't in bankruptcy, deny arguments that a global settlement proposed in bankruptcy court falls short of its share of what local and state governments need for dealing with the financial cost of the opioid crisis.
"This financial toll only accounts for a sliver of the damage inflicted on the American people," New York Attorney General Letitia James said Monday in a statement. "The millions of families that have suffered as the result of addiction, ailments and death can never be repaid for their losses."
The states' tally includes an array of costs, including money for addiction treatment and health care, increased financing of the criminal justice system, lost revenue for businesses, child welfare, and even the lost economic input of victims who were once contributing members of society.