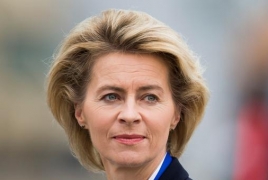 August 20, 2020 - 10:42 AMT
PanARMENIAN.Net - The European Commission has pledged 53 million euros to support the Belarusian people, Euronews reports.
This will include two-million euros to assist the victims of state violence and one-million euros to support independent media. The rest is for Covid-19 support.
EU commission president Ursula Von der Leyen said Wednesday, August 19, "Now it is more important than ever to be there for the Belarus people and to reprogramme money away from the authorities and towards civil society and vulnerable groups.
"There was unanimous support for the EU to be working on sanctions against those responsible for what is taking place."
"As we increase our support to the people of Belarus, we must be firm with those that rigged the election," Von der Leyen added.The EU believes that the results of the August 9 polls, which handed President Alexander Lukashenko his sixth term with 80% of the vote, "have been falsified," and the 27-nation bloc is preparing a list of Belarus officials who could be blacklisted from Europe over their roles.
"Our message is clear. Violence has to stop and a peaceful and inclusive dialogue has to be launched. The leadership of Belarus must reflect the will of the people," European Council President Charles Michel tweeted, minutes after the summit he is chairing got underway.
Belarus' leader has threatened to take tough new steps against demonstrators challenging the extension of his 26-year rule and accused the West of fomenting unrest as he sought to consolidate his grip on power amid widening protests.
President Alexander Lukashenko warned on Wednesday that opposition activists who created a council to negotiate a transition and new elections could face criminal charges, and he ordered his security agencies to restore order on the streets — a possible harbinger of a renewed crackdown on peaceful demonstrations.
It comes as EU leaders expressed their full support for the Belarusian people who want a peaceful transition to democracy after ten days of state repression and violence against protesters.