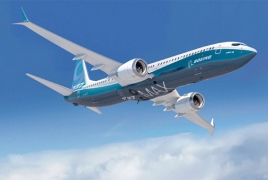 August 20, 2020 - 14:04 AMT
PanARMENIAN.Net - Boeing appears to have started quietly dropping the "Max" from its 737 Max aircraft in the wake of recent air disasters, instead referring to a 737-8, The Guardian reports.
The new name has hitherto been used only internally at Boeing and emerged when the company put out a statement on Wednesday, August 19 to announce it had won its first order for the grounded 737 Max aircraft this year. Poland's Enter Air SA agreed to buy up to four variants of the jet.
Grzegorz Polaniecki, general director at Enter Air said in the statement: "Despite the current crisis, it is important to think about the future. To that end, we have agreed to order additional 737-8 aircraft. Following the rigorous checks that the 737 Max is undergoing, I am convinced it will be the best aircraft in the world for many years to come."
The 737 Max jet's recertification is still hanging in the balance more than a year after its worldwide grounding due to two fatal crashes, in which nearly 350 people died – one in Indonesia (2018) and the other in Ethiopia (2019). The planemaker's woes have been compounded by the coronavirus crisis hitting air travel.
Boeing's customers have cancelled more than 400 orders for the 737 Max jets this year, the company said last week. Based on a tighter accounting standard, the 737 Max order cancellations and conversions to other aircraft models now stand at 864.