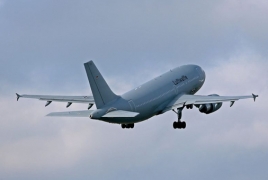 August 29, 2020 - 13:44 AMT
PanARMENIAN.Net - In late July, Turkey denied airspace to a Bundeswehr mission flying to Armenia, Spiegel reports.
Turkish air traffic controllers spontaneously and without explanation refused to grant an overflight clearance to an Airbus A310 plane of the German Air Force, which had started from Cologne and was thus forced to return to the base.
The plane was reportedly on its way to Yerevan to pick up Armenian soldiers for training in Germany.
The Bundeswehr has a military cooperation with Armenia, with soldiers from both countries engaged in a peacekeeping mission in Afghanistan.
According to the report, the German military assumes that NATO partner Turkey stopped the Bundeswehr flight because of its destination.
Armenia and Turkey have no diplomatic relations. In addition, Ankara still denies the Genocide of 1.5 million Armenians of 1915-1923 and criticized Germany when the Bundestag recognized the Genocide in 2016.