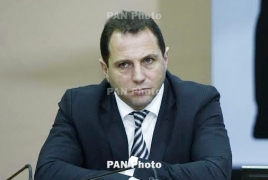 September 5, 2020 - 13:25 AMT
PanARMENIAN.Net - Attempts to involve other states in the Nagorno-Karabakh conflict are not acceptable for Armenia, Defense Minister Davit Tonoyan said Friday, September 4.
Tonoyan made the comments at the joint meeting of the Defense Ministers of the member states of the Commonwealth of Independent States, the member states of the Shanghai Cooperation Organization and those of the Collective Security Treaty Organization.
"There is no military solution to regional conflicts, and neither military rhetoric nor attempts to involve new states in these conflicts are acceptable for Armenia," Tonoyan said.
According to him, the Russian presence in the region, as well as the deepening military-political cooperation between Armenia and Russia are the most important deterrent factors contributing to the preservation of regional stability and security.
"To my great regret, I have to admit that the situation in the South Caucasus has a high conflict potential," the Defense Minister said.
"There has recently been an exacerbation of contradictions in the region, which, in our assessment, is a consequence of expanding ambitions of certain countries. The military-political events dynamically developing in our region can be characterized as a conflict of geopolitical interests, the key factor of which is the lack of a common vision of security, as well as the absence of risk reduction mechanisms."
Tonoyan added that the world has become more interconnected, and instability in any particular region is fraught with negative consequences around the world.
He noted that the strategic interests of Armenia include not only the Caucasus region, but also the CSTO, as well as the Middle East and the Eastern Mediterranean.
"Armenia is interested in maintaining peace and stability in these regions," the Minister stressed.