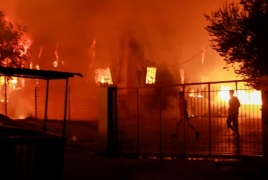 September 9, 2020 - 13:53 AMT
PanARMENIAN.Net - The Greek prime minister has convened an urgent meeting of cabinet ministers after a devastating fire gutted the overcrowded Moria migrant facility on Lesbos, leaving 13,000 people without shelter, The Guardian reveals.
As riot police were dispatched from Athens to the island, the regional governor for the north Aegean, Kostas Mountzouris, called for a state of emergency to be declared, saying the situation was out of control.
At least 35 of the refugees forced to flee the camp have tested positive for Covid-19 although authorities said the number may well "be larger" as tracing had not been completed by the time the fire broke out overnight.
"It's an atomic bomb," said Michalis Frantzeskos, the island's deputy mayor in charge of citizens' protection. "People have headed to the mountains, they're [scattered] everywhere."
On Wednesday, September 9 morning, fires were still burning in some of the camp's containers, with the state TV channel, ERT, broadcasting footage of mangled wreckage and men, women and children foraging for belongings. The station showed thousands of people gathered under police guard along the main road connecting Mytilene with the hilltop holding centre.
Lesbos, long on the frontline of the refugee crisis, has been a magnet for men, women and children moving westward from Afghanistan, Syria, Iraq, Pakistan and increasingly western Africa. Although numbers have dropped significantly since the height of the drama in 2015, rickety boats carrying desperate men, women and children still arrive from Turkey almost daily, according to local police.